Our Products and Product Safety Information

Frequently Asked Questions
Here you will find the answer to our most commonly asked questions surrounding our products, the ingredients we use and how we source them, and our environmental and animal welfare standards. If you don't find the answer you are looking for, feel free to contact us on quality@bayhar.com
-------------------------------------------------------------------------------------------------------------------------------------
In a world where we are we are ever more conscious about what we use on our skin and in our home, we advocate making informed decisions about the products you buy. We are often asked questions about the ingredients in our luxury handwashes and personal care products, here are some of the top questions, answered.
Fragrances
Our fragrances are carefully selected to ensure they enhance consumers enjoyment of our products. To create them we only use high-quality ingredients that meet global standards set by the International Fragrance Research Association (IFRA).
Do your products contain Plastic Micro Beads?
We are as concerned as you are about the build-up of microplastics in oceans and lakes. As a result, we are proud to say we do not use plastic micro beads in any of our product formulations.
Do your products contain Parabens?
Parabens are a family of ingredients used as preservatives in personal care products. 'Paraben' refers to many slightly different paraben forms, some of which can be found in nature.
We know that many consumers prefer to use products without parabens or without certain types of parabens and we are happy to confirm that our products are paraben free.
Do your products contain preservatives?
Preservatives are essential to keep our personal care products in good condition: without them, the product could be spoiled by bacteria, yeasts and moulds. We choose our preservative ingredients carefully, making sure they are safe and effective for people who use our products.
I've heard about Methylisothiazolinone (MI) and Methylchloroisothiazolinone (MIT), what about these?
Methylisothiazolinone (MI) and Methylchloroisothiazolinone (MIT) are common preservatives used in the personal care industry. Following EU regulatory changes, we have removed MI and MIT from all our leave-on personal care products.
For rinse-off personal care products, we continue to use both MI and MIT but at significantly lower levels than those stipulated in global regulatory requirements and in full compliance with Regulation (EC) No 1223/2009 Annex V.
In all our personal care products, the presence of MI and MIT is shown in the ingredients list so that any person who is potentially allergic to these ingredients can avoid using the product. We will continue to monitor scientific developments to ensure that all our products are safe, effective and fully compliant with regulatory requirements.
Do your products contain Sodium Laureth Sulfate (SLES)?
Many rinse-off personal care products foam when used as this helps to unlock their cleaning action. The ingredients which help make this happen are called surfactants, which when used with water produce foam and give a product the ability to remove dirt. The main surfactant used in our products is sodium laureth sulfate (SLES).
Are products containing SLES safe to use on my skin and safe for the Environment?
The safety of SLES has been the focus of many scientific studies. The results show that concerns expressed by some linking them to cancer are unfounded. Respected bodies such as the World Health Organization, the International Agency for the Research of Cancer or the European Union, do not consider SLES as carcinogens.
Scientific reviews by the independent US Cosmetic Ingredient Review (CIR) Expert Panel, found SLES and SLS to be safe to use in cosmetic and personal care products.
Products containing SLES biodegrade rapidly and completely by the very nature of their use. Environmental assessments, which consider their widespread use globally, show there is no concern about current levels of use.
We were always taught to be liberal with our ingredients and scents and we love the little bit of indulgence that keeps life special. Beautifully packaged, beautifully made and beautifully fragranced. We're not just selling soaps and sprays, we're selling generosity bottled.
We are committed to ensuring that all our consumers enjoy the experience of using our products and that they are safe to use. To achieve this, all of our products are designed, manufactured and assessed in accordance with the requirements of European Cosmetics Regulation 1223/2009 and manufactured in accordance with Cosmetic GMP requirements. We also closely monitor compliance requirements in all countries in which our products are sold.
We are also conscious of the impact of our business on the world's resources therefore we are working towards ensuring that we only use sustainable ingredients where available.
If for any reason you are unsatisfied with our products or have a quality issue please contact quality@bayhar.com
We want you to enjoy the wonderful fragrance and design of our Baylis & Harding range of candles however all candles must be used with care, and it is extremely important to us that you enjoy our candles safely. Please follow the below advice on how to look after your Baylis & Harding product.
Burning your Baylis & Harding candle for the first time
Always remove all packaging and check there are no signs of damage, before lighting your candle. Although we take great care during the design process, to eliminate uneven burning or 'tunnelling', you can prevent this happening in the following ways;
Always ensure wick is trimmed to 1cm before lighting
On the first burn, make sure the wax melts evenly across the surface of the candle (if only a small pool of wax can melt, it will only burn to that diameter in the future and cause tunnelling).
Safe use of your Baylis & Harding Candle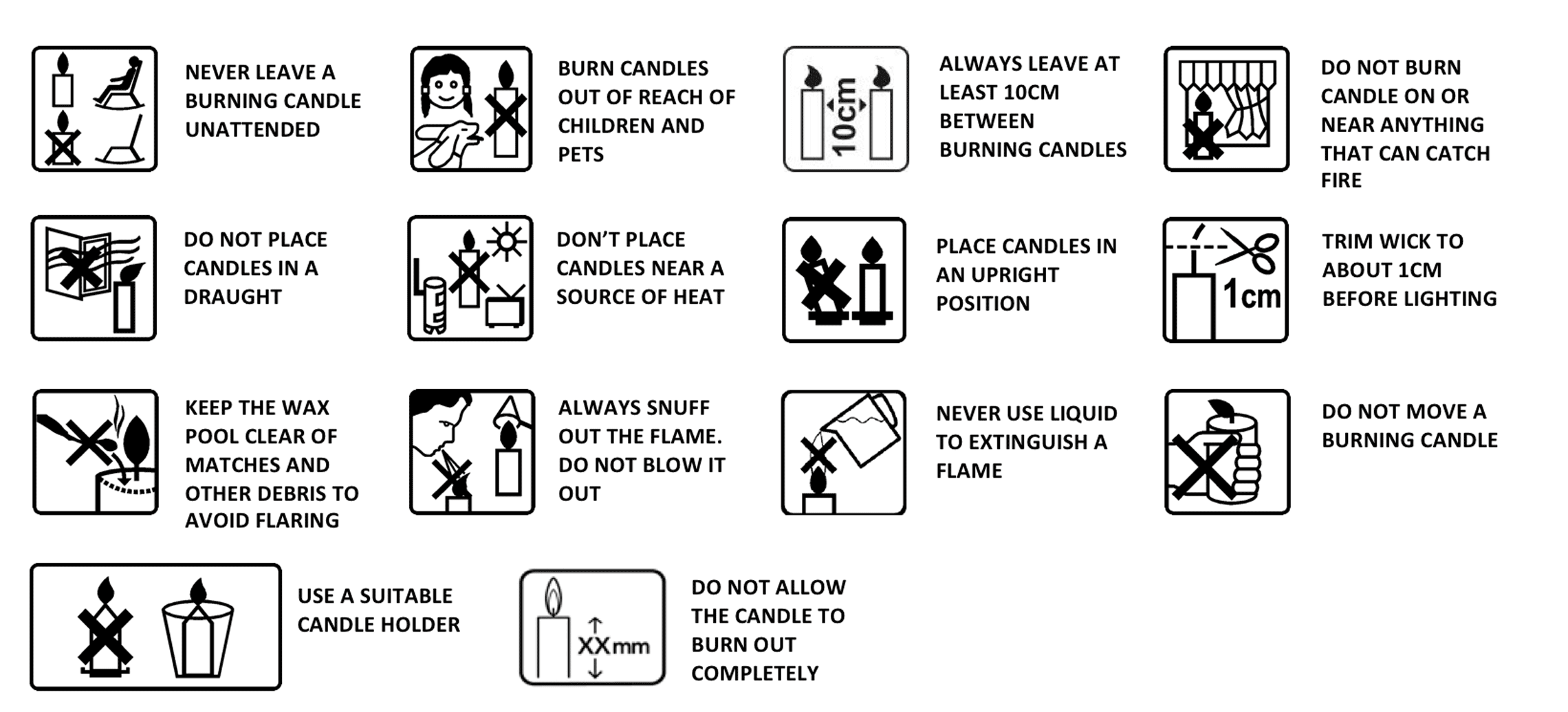 We are committed to protecting the welfare of all animals and proudly support the work of PETA.
In addition to this our policies ensure that:
No animal testing is performed on either our products or any chemical used in our products or packaging. We have reinstated the use of our No Animal Testing logo on packs to communicate this with our customers

No real fur/ bone / horn /shell/ teeth / tusk/ feather is used in our products
No animal derived ingredients included in any of our fragrances – whales/musk etc.
No animal derived glue used in our product packaging
We do not use any images on our products which promote animal cruelty
Baylis and Harding gifting and all year-round ranges are suitable for Vegans, except for any containing honey or beeswax. We shall be enhancing our web-based information on this topic to give clear advice to our consumers and we are progressing with Vegan Society Certification on selected handwash, bath and shower products.
Our products and packaging are carefully developed and designed to provide all consumers with an affordable luxury experience from selection in store, through to use in the home.
The packaging we provide is designed to show our products off to their very best but also protects our products from damage and contamination. The packaging also allows us to communicate vital information on product ingredients and how to use and dispose of the product safely. We are however conscious of the negative impact that packaging has on the environment and its resources.
As such we are taking a multi aspect approach to minimise our impact on the global environment in line with the commitments of the UK Plastic Pact 2018
Encourage consumers to recycle

Reviewing product design to reduce volume of non-recyclable packing

Incorporate recycled material into packaging where available
Provide alternatives for single use plastics, such as refillable options or reusable design
We are also committed to support initiatives which make a positive impact on the environment and are proud to be supporters of the UK based Marine Conservation Society
What is The UK Plastic Pact?
The UK Plastics Pact is a trailblazing, collaborative initiative that will create a circular economy for plastics. It brings together the entire plastics value chain behind a common vision and ambitious set of targets.*
Our commitment
*Source: The Waste and Resources Action Programme (which operates as Wrap) Registered UK Charity NO. 1159512
We are committed to acting ethically and with integrity and transparency in all business dealings. This includes putting effective systems and controls in place to safeguard all employees within our business and supply chain and to safeguard against any form of modern slavery or bribery taking place within either our business or our supply chain.
Baylis & Harding is committed to conducting business in an ethical and honest manner and the company takes a zero-tolerance approach to bribery and corruption. We are committed to acting professionally, fairly, and with integrity in all business dealings and relationships, wherever we operate. We are bound by the laws of the UK, including the Bribery Act 2010, in respect of our conduct both in the UK and abroad.
The company is committed to not making bribes, nor condones the offering of bribes on its behalf, to gain a business advantage. We will not accept bribes or agree to them being accepted on the Company's behalf to influence business.
The Company will not do business with third parties who may harm the Company's business and who do not accept the Company's principles. This includes any individual or organisation that the Company's employees encounter while conducting the Company's activities. This includes but is not limited to customers or potential customers, suppliers, business contacts, agents and distributors and any other contact of the company.
Modern slavery encompasses slavery, servitude, human trafficking and forced labour. Baylis & Harding has a zero-tolerance approach to any form of modern slavery.
Baylis & Harding have Zero Tolerance in relation to the following issues:
Child Labor

Imprisoned/Forced Labor
Abuse and Harassment
Life Threatening Conditions
Bribery
Falsified Audit Reports
Our Sourcing Agreement details our expectations of all our suppliers. We monitor their adherence to these mutually agreed standards and work with our suppliers to address any issues or concerns and continually raise standards.